Getting Started With PDF to Word

PDF to Word is an utility designed to convert Adobe PDF files to Microsoft Office Word(.docx) for use in other Office applications.
https://itunes.apple.com/us/app/pdf-to-word/id594753804?ls=1&mt=8
Let's take a look at how to convert a PDF document to MS Office Word file(.docx) with PDF to Word.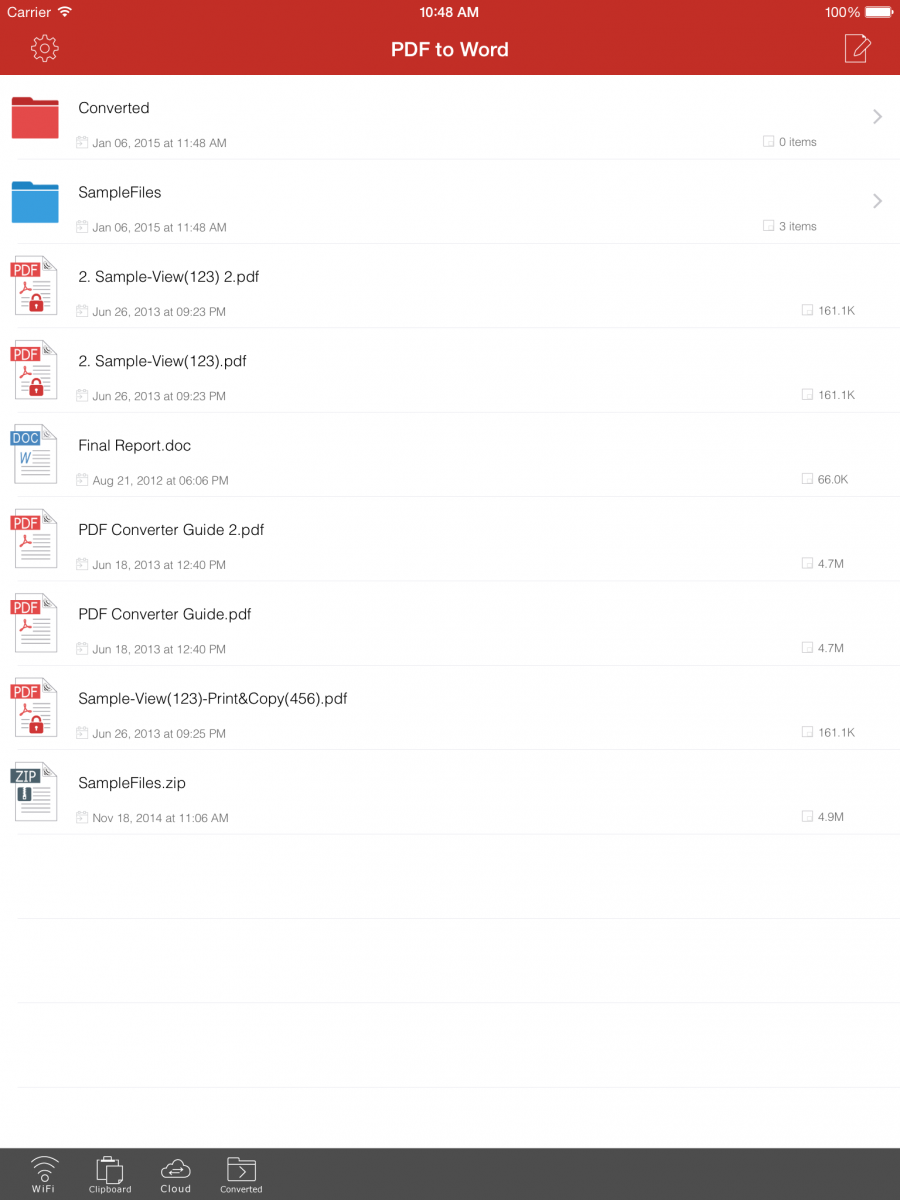 ◎ How to transfer files with this app?
Where are you document saved?
1. If your document are saved in another app on iPhone or iPad.
Our app can received documents from other apps by using the "Open In.." feature.
> Email attachment in Mail app as on iPhone / iPad. In Mail app, Simply tap and hold on the attachment icon, Tap Open in "PDF to Word" and document will be saved to our app.
> Files in Google Drive, DropBox or any other cloud apps on you iPhone / iPad. In cloud apps, Simply Open to view an document, Tap their share button to select "Open in.." in the popup men, select PDF to Word, it will jump to PDF to Word automatically.
2. If your documents are saved on the Windows PC or Mac.
> You can use the USB cable connected to PC or MAC, then transfer documents with the windows or mac version of iTunes app in the Apps/File Sharing/Apps section, Find this app to copy files easily.
> You can use the windows or mac version of any web browser(Safari / IE / Chrome) to upload it by WiFi Connection, after turn on wifi sharing on our app, input the ip address, then upload or download files with web browser directly.
(PS: You may need to refresh the file list by open an sub-folder, then back to root folder.)
◎ How to Convert PDF to Word?
After you have copied a PDF into this app's document folder by "open in", iTunes USB file share and other ways, then:
1. Find the PDF document in the documents in root folder or other sub-folders.
2. Touch to open the PDF file(You may need to input the user password for locked PDF firstly.).
3. Press the "Convert" button on the bottom bar to convert all pages of the PDF to Word document directly.
(There is a "Settings" button on the bottom bar too, you can setup the PDF Page range and other settings before converting.)
4. After converting finished, it would take you to preview the word document(.docx), you can share to friends or other editor app.
(PS: The default iOS document viewer may not be able to display word document properly, you can send it to professional word editor for viewing and editing, such as: Pages, Polaris Office, KingSoft WPS, Mac Microsoft Office and other app.)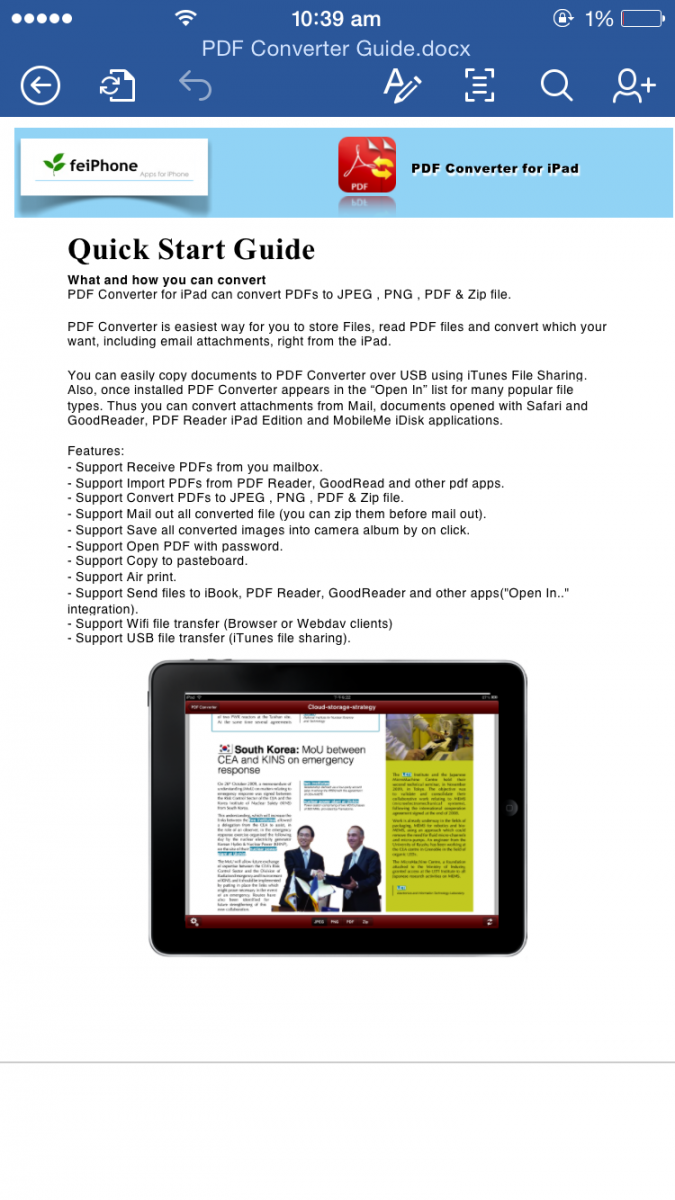 ◎ Other FQA:
1. Why I get "Conversion Failed" error message when I extracting from a PDF file?
Do you have a PDF (Adobe Acrobat) file which cannot be printed, copied, or edited? Your PDF file has had password security and other restrictions added, you need remove restrictions.
2. Why some text in PDF file can not be extracted out?
The PDF file format is complex, there are cases that text in a PDF file are actually scan pictures. We do not grantee PDF to Word will work for every PDF file, especially ones that have picture text, we suggest you to use professional OCR app to recognise text from image.
◎ Contact Us:
You can send us an email by PDF to Word>Setting>Send Feedback, it will add app info as attachment.
We will look at your info, try to find an way to help you, as well as improving this app.
http://www.flyingbee.com/products/pdf-to-word-ios/