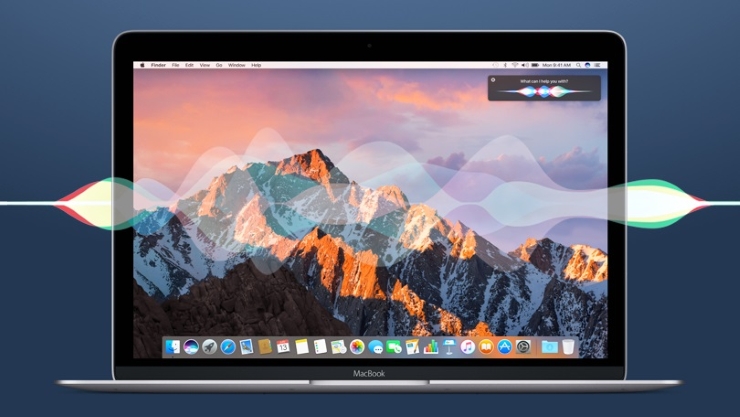 Every year, Apple introduces a new version of OS X, but this year the new version got a new name. If you upgrade OS X 10.11 El Capitan to version 10.12 when it arrives this autumn, you'll be upgrading to macOS Sierra, not OS X. The underlying architecture and overall experience remains basically the same, but the name is now consistent with Apple's iOS and watchOS. But this latest version is about a lot more than just the name. You can try an early version of the OS on July 7, and here's what you need to know.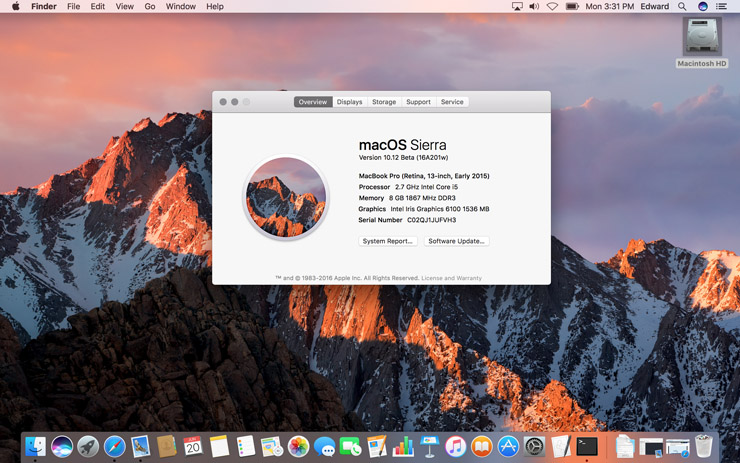 1. Apple released a public beta of macOS Sierra at beta.apple.com. Registered developers had access to a very early beta version, and that version is what I used in preliminary tests. I liked what I saw, and I like the features that aren't ready yet but will be ready by the time the OS ships. The following are some highlights of the version I tested.
2. MacOS Sierra will be a free upgrade and works on any Mac dating back to 2010 and MacBooks and iMacs from 2009. Older hardware will still work with OS X 10.11 El Capitan, which you're probably using now.
3. Siri finally comes to the Mac. Just as Microsoft built its speech-driven assistant Cortana into Windows 10, so Apple built iOS's Siri into macOS. Sierra's Siri won't respond to "Hey, Siri" because your Mac doesn't listen to you all the time, but she pops up with a keystroke (the default is Fn-space) or a mouse click and finds local restaurants or pictures you took last week or tells you weather, sports scores, and much more. You can drag Siri's answers from a pop-up window to the notification pane or drag images into documents. A new preference pane lets you decide whether Siri will talk back to you or simply type out her answers on screen. You can also choose her gender and nationality.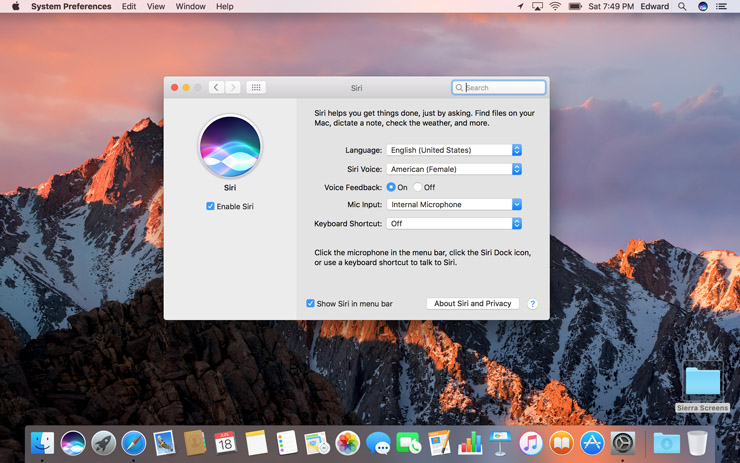 4. Sierra, in combination with the forthcoming iOS 10, introduces a universal clipboard that lets you save text on a Mac and paste it into your iPad or phone, or the reverse. Other ways the Apple ecosystem gets more tightly integrated include automatic unlocking of a Mac when an unlocked Apple Watch is close by (and on your wrist). In the public beta, this will only work if you're a registered Apple developer using the beta version of watchOS 3.
5. Picture in Picture comes to the Mac, too. As on the iPad, you can extract a video from a Web page and have it play on your macOS desktop without the surrounding Web page. The video stays playing, in the same position, even when you switch among multiple desktops.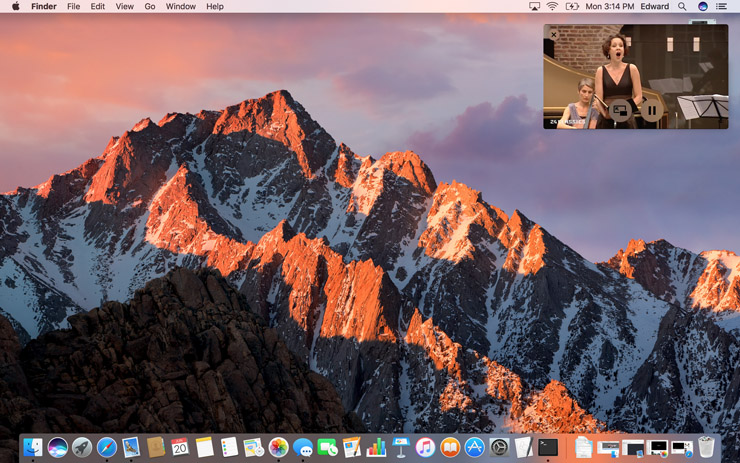 macOS Sierra does even more for you, so you can do more with your Mac. It helps you rediscover your best photos, work more seamlessly between devices, and free up valuable storage space. It also brings fun new ways to create super expressive messages. And now the files on your Mac are always right at your fingertips — whether you're on your Mac, iPhone, or iPad.