PDF to Excel OCR Converter for Mac
https://itunes.apple.com/us/app/pdf-to-excel-ocr-converter/id1316315027?mt=12
PDF to Excel OCR Converter for Mac is an innovative product that has been designed to help users convert scanned PDF to Excel files mainly. With its all capabilities, Flyingbee PDF to Excel OCR Converter for Mac can also convert common PDF to Excel.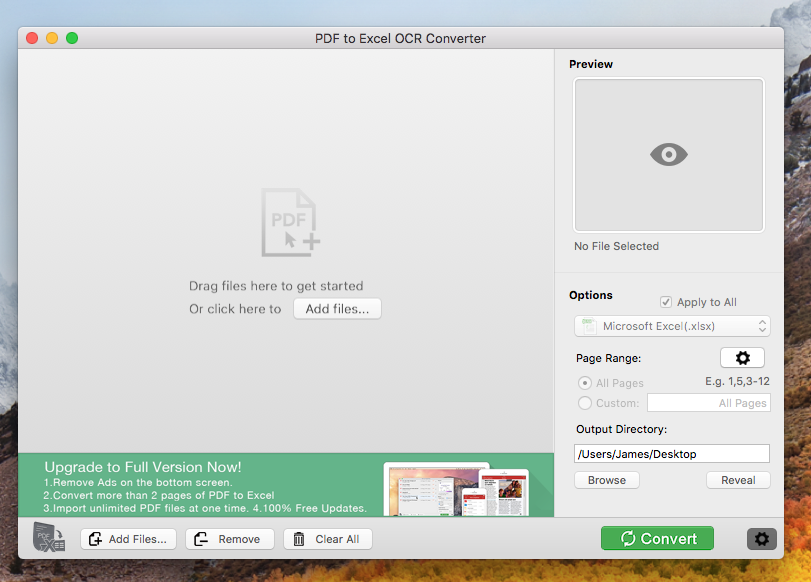 PDF to Excel OCR Converter also supports batch conversions from image PDF to Excel and setting output options of conversions from image PDF to Excel. For PDF files protected by passwords, it can convert the PDF files into perfect fully editable Microsoft Excel files every time with an easy-to-use interface.
It supports recognition of several languages including English, French, German, Italian, Spanish, Portuguese, Japanese, Russian and Chinese.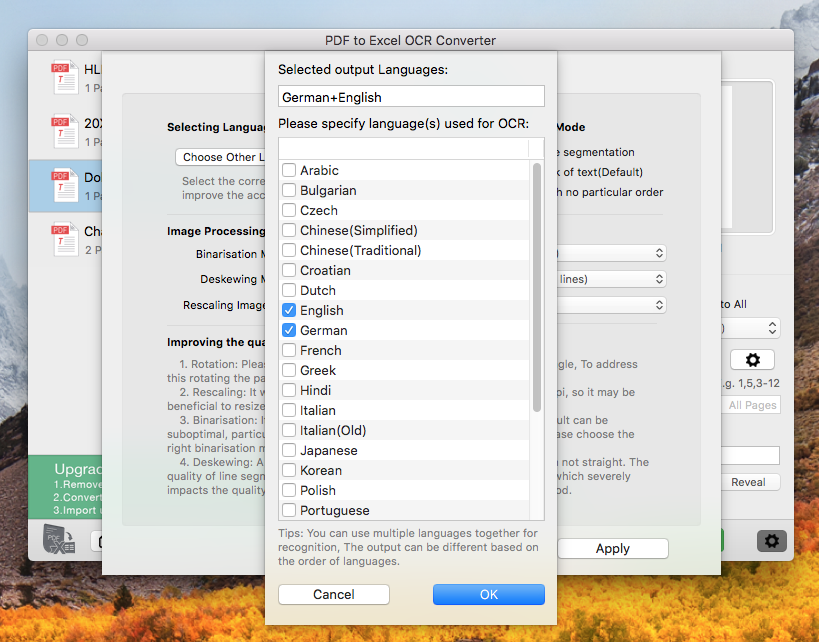 How to convert scanned image PDF to Excel via OCR (Optical Character Recognition)?
1. Open ​
PDF to Excel OCR Converter for Mac
from
Launchpad
.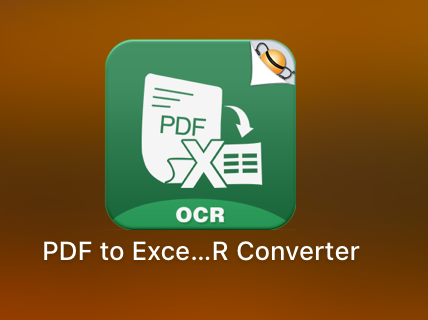 2. Add the scanned PDF files to PDF to Excel OCR Converter for Mac.
Tips: You could also use our sample file in the app(On Menu, Click Help/Add Sample files, A "Flyingbee-Scan Test.pdf" file would been added ). or you could download it here. Flyingbee-Scan Test.pdf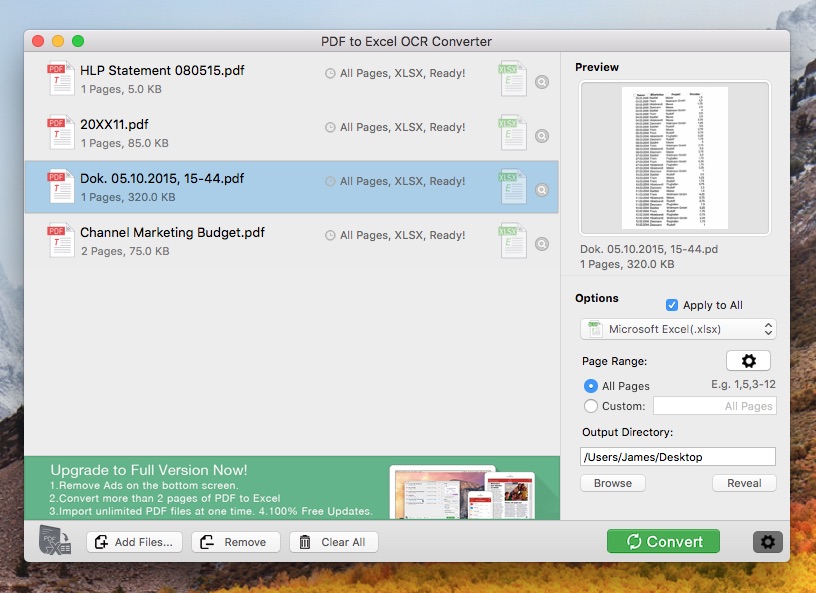 3. Click the Settings icon button, A sheet windows would be popup, you could change the Excel Options or OCR options like this:
Tips: Improving the quality of the output
1. Rotation: Please check whether the scan PDF rotates to the normal angle, To address this rotating the page image so that the text lines are horizontal.
2. Rescaling: It works best on images which have a DPI of at least 300 dpi, so it may be beneficial to resize images.
3. Binarisation: It is easy to convert an image to black and white, but result can be suboptimal, particularly if the page background is of uneven darkness, please choose the right binarisation method.
4. Deskewing: A skewed image is when an page has been scanned when not straight. The quality of line segmentation reduces significantly if a page is too skewed, which severely impacts the quality of the OCR, so please select the right deskewing method.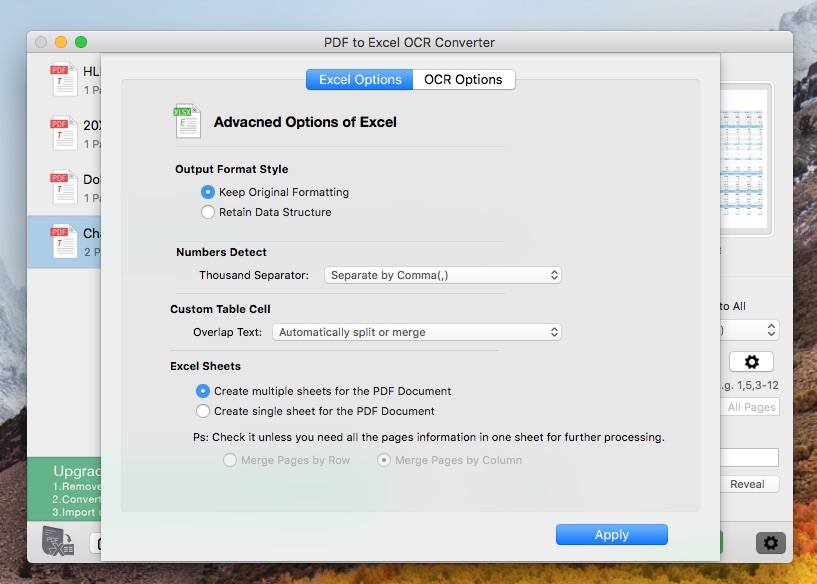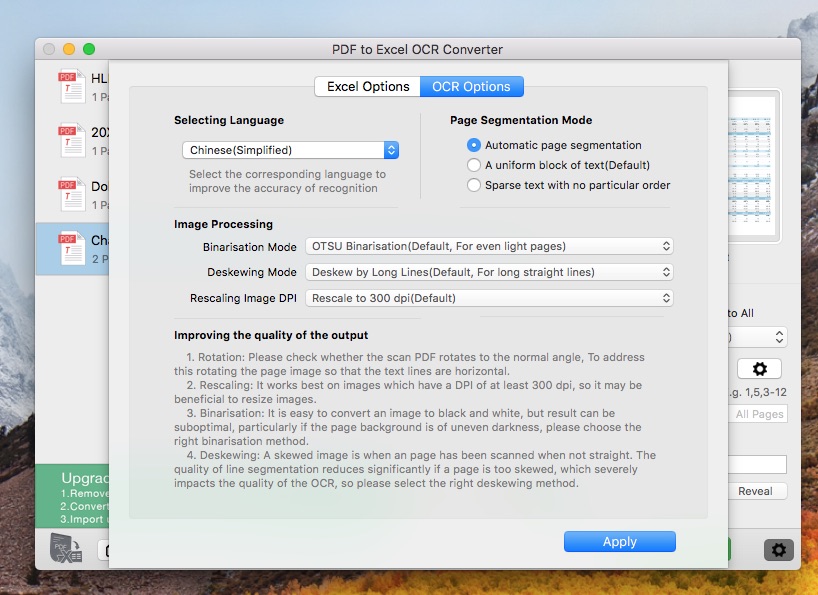 4. After you select the right recognition of languages, you could click "Convert" button to convert PDF to Excel now.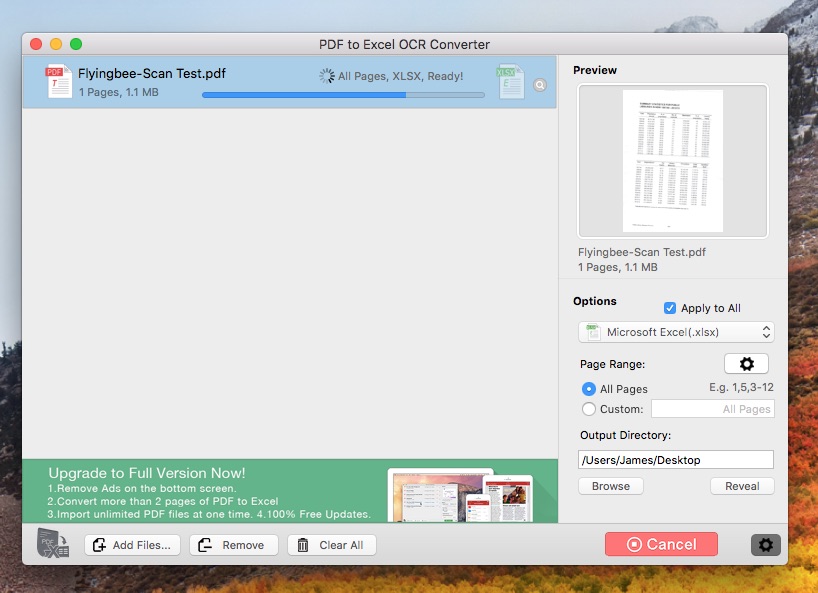 5. The reuslt would be open in Microsoft Excel app.
Tips: The quality of output excel would be better if you use the right OCR option, you could download the result file here. Flyingbee-Scan Test.xlsx​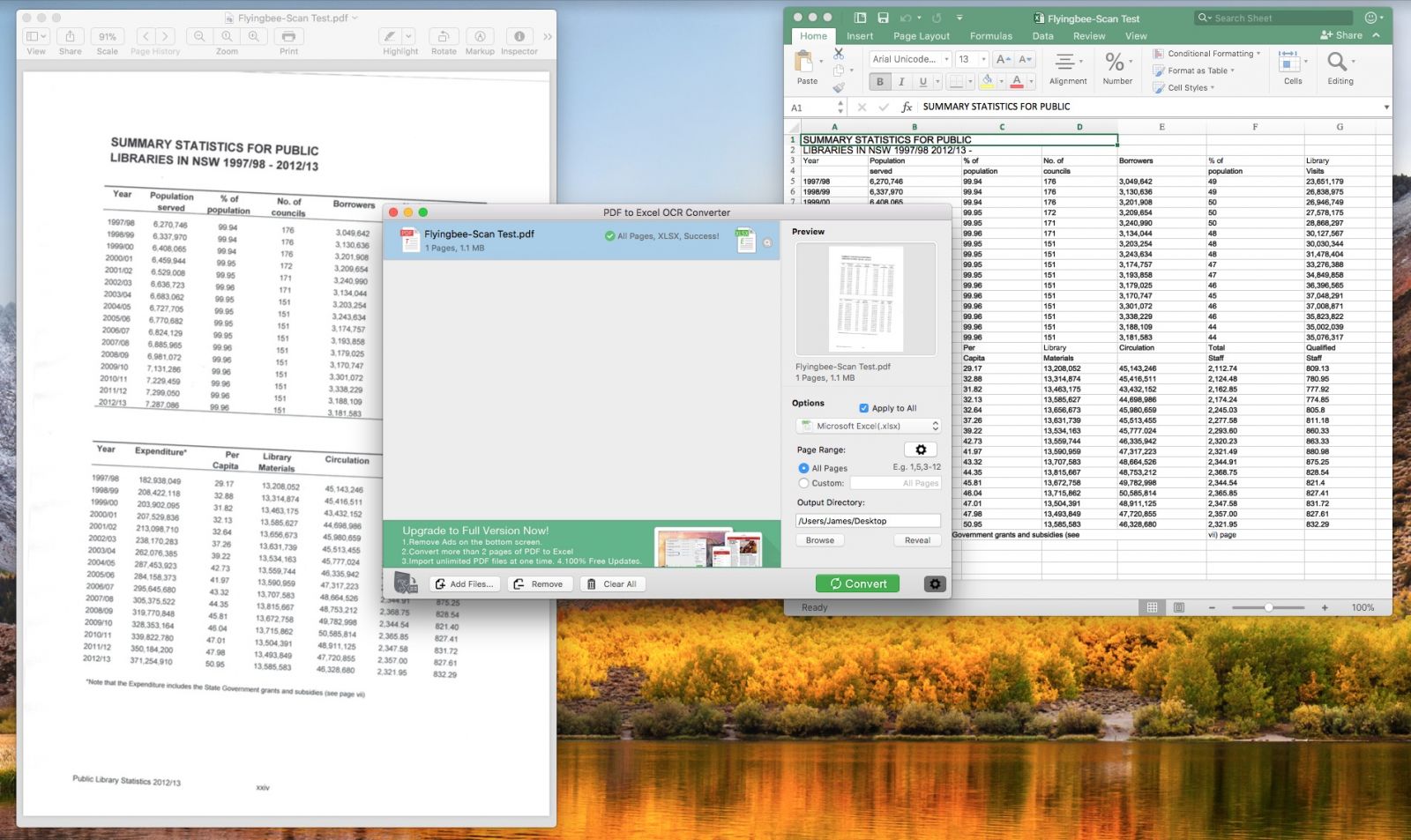 If you work in business, you may sometimes need to convert reports from PDF format to Excel for the purpose of performing calculations and analysis on the data in them. The conversion of PDF to Excel is made possible through the use of Optical Character Recognition (OCR) software, which renders the data capable of being edited and analyzed.
PDF to Excel OCR Converter for Mac
https://itunes.apple.com/us/app/pdf-to-excel-ocr-converter/id1316315027?mt=12