Learning how to annotate a PDF on Mac is extremely important and useful because PDF becomes one of the most widely used formats welcomed by many people.
We can annotate the PDF files with the built-in Preview on Mac if we only want to make a few simple annotations. But, as we all know, Preview is more of a PDF reader than a PDF annotator.If we need to annotate our PDF files often and much, Preview's simple annotation function may not meet our requirement. Is there any better tool to add annotations to PDF files? Absolutely yes!
Flyingbee Reader for Mac
, a PDF reader, as well as a PDF annotator, is such an excellent alternative for us to annotate PDF files on Mac.
Flyingbee Reader for Mac
is a user-friendly PDF viewer and annotator. Here is our tutorial about how to annotate PDF files by using Flyingbee Reader for Mac.
Steps for adding Annotation to PDF Files on Mac
Step 1
: Open PDF Files
Double-click any PDF file saved on your Mac to automatically open it if you set Flyingbee Reader as your computer's default.
To make Flyingbee Reader as default application for opening PDF files, please refer to:
How to set Flyingbee Reader as the default PDF viewer in Mac
Step 2
: Markup text
Flyingbee Reader allows you to markup the text intuitively due to its simple interface.
Highlighting text is an easy way to mark sections you want to remember,or to mark parts of a text you want to point out to others.To highlight text, click on the button and drag over the text you want to highlight.
Underlining a portion of a PDF file gives that portion additional attention.Strikethrough is primarily used to mark text that is mistaken or to be removed.To underline or strikethrough text, go to the button and click on the drop-down "Arrow" icon besides the button.And then select underline or strikethrough to underline or strike out the text.
Yellow is the default color. Surely, you can change the color if you don't like it.
Alternatively, you can click on the markup button;a toolbar will pop out, where you can easily choose highlight,underline or strikethrough as desired.
Step 3
: Annotate files using sticky notes & text boxes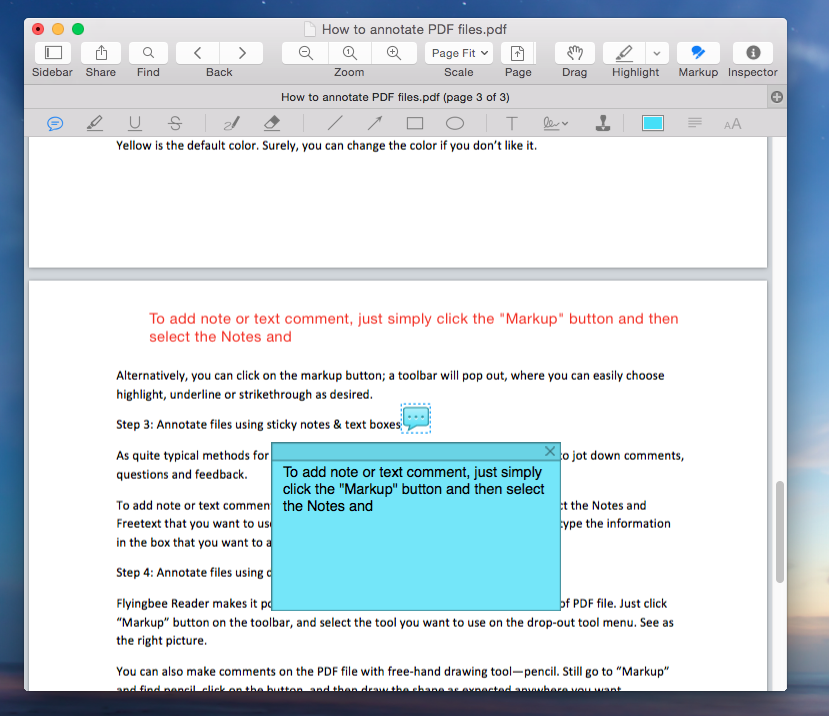 As quite typical methods for annotation, sticky note and text comment allow you to jot down comments, questions and feedback.
To add note or text comment, just simply click the "Markup" button and then select the Notes and Freetext that you want to use and add to the right place on PDF file.You can then type the information in the box that you want to add. The color for both can certainly be changed.
Step 4
: Annotate files using drawing tools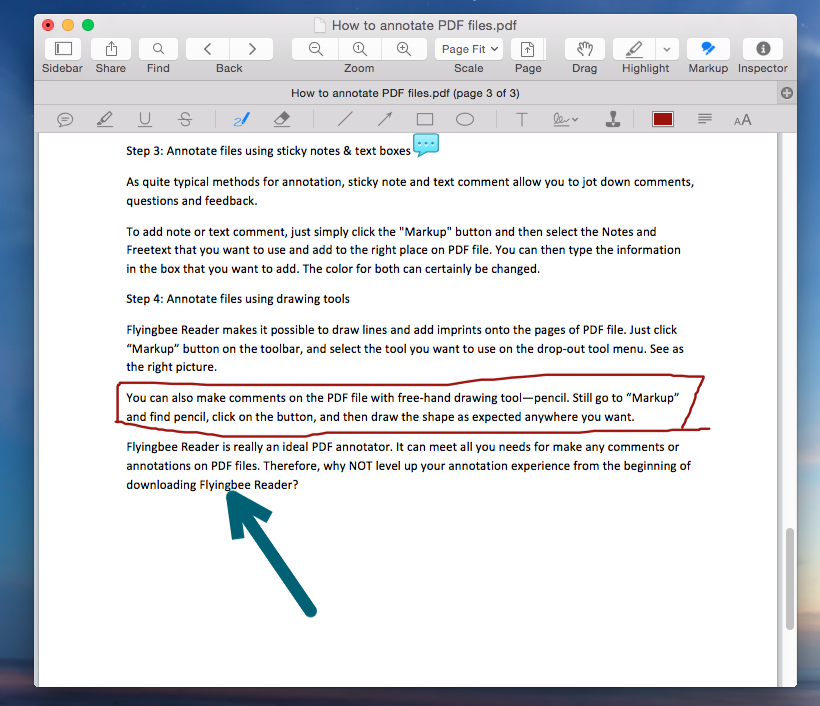 Flyingbee Reader makes it possible to draw lines and add imprints onto the pages of PDF file. Just click "Markup" button on the toolbar, and select the tool you want to use on the drop-out tool menu. See as the right picture.
You can also make comments on the PDF file with free-hand drawing tool—pencil. Still go to "Markup" and find pencil, click on the button, and then draw the shape as expected anywhere you want.
Flyingbee Reader
is really an ideal PDF annotator. It can meet all you needs for make any comments or annotations on PDF files. Therefore, why NOT level up your annotation experience from the beginning of
downloading Flyingbee Reader
?